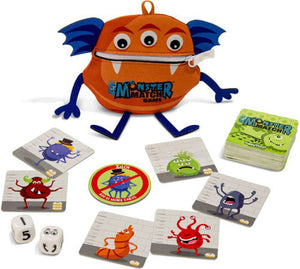 Toy of the Year 2019 Finalist!
In the town of Sprinkleton, monsters are running rampant and stealing all the donuts.  We need your help! 
Monster Match is the screaming-fast game of catching cute, donut eating, monsters.  Players roll the special "Monster Dice" and then race to find a monster that matches the dice rolled.  How fast can you find a monster with 3 eyes…or 4 arms?  With each monster worth different donut points, do you search for just any matching monster, or do you try to find the monster with the most donuts?
But watch out! Go too fast, you might catch the wrong monsters and lose your donuts!
How to Play
Roll the dice.
Find the matching monsters.
The player with the most donut points wins!
Contents: 55 Monster Cards, 2 Monster Dice, 1 Zilch Token, 1 Rulebook, Monster Match Pouch, perfect for when on the run!